WPC stands for "wood plastic composite," a composition made up of recycled plastic and waste wood. WPC decking is a plastic material used in construction that is designed to substitute natural wood and plywood. It offers lots of plus points that aren't available with the usual wood decking. WPC decking boards offer a more reliable and elegant alternative that lasts longer and replicates the appearance of wood decking.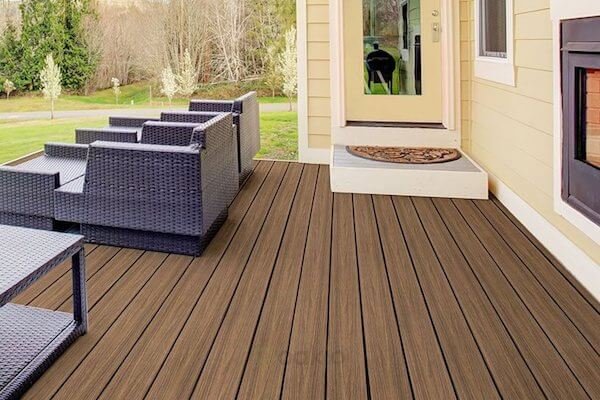 WPC decking is an excellent option for modern-time furniture, and that's why it is getting popular by each day. It can be used both in the interior and exterior of buildings due to its flexibility and durability. Aside from positive aspects, WPC decking also has some drawbacks, like it cannot bear extreme temperatures and melts when in contact with hot metal.
This guide outlines everything you need to know about WPC decking and how you can select best one for your needs.
Advantages of WPC decking
Some of the many advantages of WPC decking are:
1. Sustainability
WPC boards are eco-friendly as they are made of recycled plastic and waste wood, which means no trees are cut in their manufacturing. This composite material is built to last and offer many of the features of wood decking without any impact on the environment. Its prolonged life means that you do not have to replace WPC decking more often than wood decking, therefore utilizing more materials than required.
2. Cost-Effectiveness
WPC decking might be more expensive in the beginning, but it continues to look better year after year. Moreover, it has virtually no expense of upkeep as WPC decking requires less maintenance than traditional wood decking. This means you don't have to reach your pockets more often, which also gives you the freedom to spend money on other things.
WPC Decking Buying Guide
You must consider a few things before you buy WPC decking for your house. This will help you buy the ideal decks that will suit your needs.
1. Size and Thickness
Board size and thickness is the first factor to consider. WPC boards are available in many sizes, but the standard size used in the market is 8 × 4 feet. Besides, there are multiple thickness options to accommodate different requirements. Like if you want WPC for partition, ceiling, or decorative items, you must use decks with medium thickness and medium density. While for kitchen, furniture, and tables, you will need high thickness decks to bear the load. In the market, WPC boards are available in 5mm, 6mm, 10mm, 15mm, 20mm, and 25mm.
2. Price
The price is the most crucial factor while purchasing WPC decking. Their price varies depending on the thickness, brand, density, and installation site. WPC is a bit pricey as compared to other alternatives, but when you look at the benefits of WPC decking, it is more cost-effective. So, always choose the best option regarding your requirements and budget.
3. Durability
The product you are buying must have a long service life. Anyone would hate buying something which needs to be replaced after a few months. Durability is one of the significant pluses of WPC decking over its alternatives. It has enhanced durability and is designed to last longer. Furthermore, its material, blend, and finish make it immune to many factors that generally affect the life of wood decking, such as water. WPC decking is resistant to scratching, fading, cracking, and moulds.
4. Low Maintenance
Maintenance is another factor to ponder on while selecting WPC decking. WPC decking is so easy to maintain you don't have to worry about sanding, staining, or painting. The occasional washing with soap and water is enough to maintain the decking for decades.
However, composite decking has the potential to show water stains, but they tend to disappear after experiencing rain. But they may need a more focused cleaning in summers as the stains can become more evident in hot weather.
5. Cleaning
Although wood plastic composite decking surface cleaning does not require frequent cleaning, a regular wash-up can help prevent the build-up of bird droppings, pollen, and any potential dirt. Its cleaning is easy and only requires soap, water, and a scrubber. Various deck cleaners are also available but avoid chlorine bleach-based cleaners. The Sodium Hypochlorite printed on the label indicates that the cleaner contains bleach. An occasional low-maintenance effort can save your deck for many years to come.
How much does WPC decking cost?
Generally, WPC decking is more expensive than traditional wood products. But for this extra money, you get better quality along with other benefits. Undoubtedly, you can make short-term savings by using traditional wooden products, but WPC decking offers more value for money in the long run.
Natural wood is not so durable because it can rot easily. That's why you must go for a more durable and long-lasting product, like WPC. Wood may have its benefits, but with zero maintenance and eco-friendly features, and anti-slip resistance, WPC decking is more appealing and a much better investment.
WPC decking comes in a wide range of affordable, high-quality varieties. Moreover, there are available in many colors to choose from, like, black, brown, light grey, mid-grey, and teak.
How to install WPC decking
WPC decking is so easy to install that even you can do it yourself without the need of any specialist. Firstly, you need to build the substructure and ensure that there is adequate drainage below the area. Then, clean the area and make sure it is flat and stable. Afterward, fix the joists and keep a maximum of 250mm distance between the centers of two joists. Check whether the joist level is smooth or not; if not, adjust the level by filling the gaps between joists and ground.
There must be double joists at the point where two WPC decking boards meet to avoid potential falls. Now, fix the decking boards either by starting clips or screws. Once boards are fixed, and you are sure that WPC decking is fastened correctly, you can finish the deck by striking and trimming the sides.
Like many PVC building materials, expansion is a major factor to consider while installing WPC decking. Temperature variations can result in the boards moving, so there must always be a gap between two WPC products. The expansion rate of WPC decking is about 0.3% to 0.5%, depending upon the length of the deck and climate conditions in different places.
You can also expect color and surface changes with WPC decking. The color will typically fade slightly over the first 12 months, after which it settles down. For the optimum results, it is suggested to store the WPC boards at the installation site for three days before installation, as this gives them a chance to acclimatize. However, WPC decking can be installed at any time of year, but spring is the best as the temperature is generally moderate.
How to clean WPC decking?
No matter what type of decking you select to use in your house, you would definitely face occasional dirt on the decking. You can use a soft-bristled brush and soapy water to wash the decking surface and ensure a dirt-free WPC decking. However, you can also use a pressure washer for cleaning WPC decking. If you use a pressure washer, make sure to use a household pressure washer at the lowest pressure and keep it at least 25cm away from the deck.
Using a suitable composite cleaner is very important for the life of the WPC deck. Always check the label while purchasing a deck cleaner and avoid chlorine-based cleaners. On the contrary, cleaners with sodium percarbonate are preferred because they form bubbles when mixed with water; these bubbles dissolve and wipe off any organic material on the deck surface completely. All you have to do is apply the mixture of water and cleaner to the surface and leave it for 15 minutes. It breaks off the stains, then takes a deck scrub and cleans the deck area in circular motions while it is still wet. Once the cleaning is completed, pour clean water to rinse the area very well.
For efficient cleaning, try to clean the deck in small sections. In this way, you can clean the site while it is still wet. Because the mixture dries off on the surface, the organic stains will settle in again. Also, scrub between the decks to remove any substances hidden therein. Once you have finished, allow it to dry for a few hours before putting your furniture back on it.
How to fix damaged WPC decking?
Like any other material, wood plastic composite decking may get damaged somehow, needing replacement or repair. The best way to repair a worn or broken board is to replace them with matching composite pieces. All you need to do is remove the composite deck boards, replace the deck joists, reinforce the deck posts, and replace the deck boards with a matching board.
Final words
That's all about WPC decking. After reading this guide, we hope that you can easily decide which type of WPC decking is best for you.