In recent years, you may have noticed the increased use of wood plastic composite materials for decorations. It has become the best alternative to traditional wood wall panels. There are so many benefits associated with composite WPC wall panels. This article is a basic guide to WPC wall panels. It discusses the materials used, types, and applications of WPC wall panels.
The Material of the WPC Wall Panel
WPC wall panel is a composite material made of wood; lignocellulose and vegetable cellulose; thermoplastic polymer material (plastic); processing aids, and more. It's then mixed and extruded by die equipment.
Also, it's a new form of composite material that can replace wood and plastic. That's because it has both wood and plastic properties and characteristics.
Types of WPC Wall Panel
WPC wall panels are from a wood and plastic combination. If you're looking for some, know that there are different models. It becomes challenging to choose an outstanding one especially with different manufacturers available.
When purchasing wpc composite wall panel, consider the product models. It should correspond to the pattern, size, and color. We categorize wall panels into three categories discussed below.
1. Indoor & Outdoor wall panel
Composite Interior wall panels solve many problems that traditional wood products cannot solve. Wood products rot, swell, and deform after absorbing water. This makes them not appropriate for use in watery and humid environments.
WPC interior wall panels are waterproof safe and have an excellent sound-absorbing effect. With these products, you can save more than 30% of energy. Additionally, no more swelling or cracking. It reduces maintenance and repair costs.
Composite outdoor WPC wall panels are recyclable and have no more pollution. Also, co-extrusion WPC wall panel outdoor cladding is fire resistant. That's because of its effective flame retardant. They are also waterproof and moisture-safe, anti-termite resistant, thus prolonging their life.
Generally, indoor & outdoor wall panels have good workability. Its surface can get ordered, painted, sawed, drilled, and planned.
2. Common & 3D wall panel
The wood wall panel has been the most used paneling for years now. Wood panel decoration comes to mind when you visualize a classic setup.
A classic wooden panel is well polished. But, these depend on the type of oak, pine, cedar, etc., used. Its installation process is a DIY; anyone can handle it with the proper tools.
3D wall panels have also become so popular. When it comes to design, 3D panels get raised to make it stand out when laid flat. If you want to add pattern and depth to your space, then 3D walls are perfect.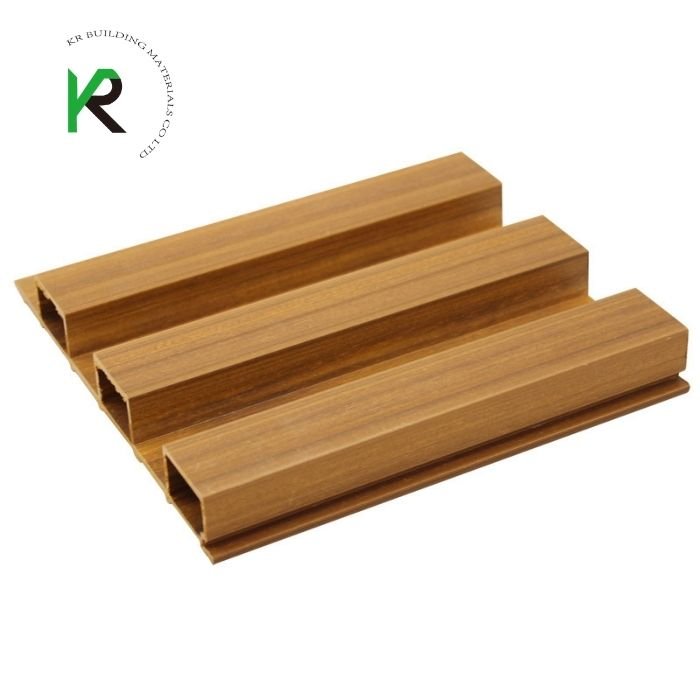 It's due to its appearance that people use these panels to fill one side of the four walls. This design is more artistic, unique, and with expensive looks.
3. Wood texture & pure color
The wood texture depends on the type of wood used. There are many decorative wood panels for walls with different textures and colors.
For instance, acoustic slat wood wall panels have good designs. And it's easy to install wooden wall slat panels.The wall panels' color must be the same as the space. That is why all wall panels have pure color that uses the same color scheme in different areas.
The colors can be warm tones like red, orange, ochre, yellow, and more. Such colors make homes more warm and enthusiastic. Cool styles of color include cyan, green, purple, etc., making the house look cool and elegant.
Applications of Wall Panel
Whether it's a commercial or residential building, every decoration plays a significant role. Compared with other décor elements, wall panels are more effective. That explains why it is a popular application in modern architecture.
The wall panels can also get installed over other construction materials. You can observe that, especially for materials that are non-porous and need to be stronger.
1. Indoors and outdoors
Wall paneling is an effective option for outdoors and indoors. In the older days, people used wood wall paneling to enhance the rooms' comfort. Panels created insulation between the rooms and the stone wall. In this modern age, the interior wall paneling serves the same purpose and also as decoration.
Additionally, exterior wall paneling has become popular and adopted in new construction buildings. There are many reasons for you to choose wall panels. But, we will discuss these benefits later in the article.
Besides cutting back on building costs, you'll also cut down on finishes and painting. This results in a beautiful and consistent look. You can even use wall paneling for complete wall replacement.
2. Increase the aesthetic appeal
These days' people use wall panels for the aesthetic appeal of their buildings. Wall panels can improve the design and look of an existing look or design new buildings. Both cases are beneficial and profitable when renting or leasing a building.
More so, it's one of the professional ways to attract potential clients to your business. Vertical rectangular-shaped patterns, horizontal panel layouts, and corrugated or textured patterns are available. Always check on the design that the manufacturer offers.
You can order from KR Wood Composite on-request 3D patterns (hollow or solid decking).
Advantages of WPC Wall Panel
1. Improved insulation performance
Many people opt for wood wall panels because of their improved insulation performance. Wood is a kind of natural insulator preventing heat loss and cold from going through. WPC materials are a combination of recyclable plastics and wood fibers.
Because of its nature, WPC material has better insulating properties. This makes it a great addition to our daily lives. You can also opt for interior wall panels to keep your interiors cool during cold and hot weather. It's wise to opt for WPC wall panel designs.
2. Easy to install
The WPC wall panel installation process is simple. There are many DIY wood wall panel ideas on Google that you can find helpful. But we do recommend hiring professionals.
Without proper installation tools and experience, it can lead to problems. It can also cause unnecessary delays due to a lack of professionalism.
If installing the panels, follow precautions and the manufacturer's instructions. Manufacturers offer step-to-step WPC wall panel installation guidelines depending on the materials used.
3. Excellent Sound Insulation
Wood wall paneling has a good and unique sound-absorbing structure. WPC wall panels have stronger sound insulation capability than wood wall panels.
The WPC wall panel is the best choice if you seek privacy and peace in your property or business area. Many commercial customers have opted for wall panels. At KR, we have many WPC wall panels on sale to choose from.
Contact our sales team if you need a quality WPC wall panel to soundproof your home. They will help you select the best product based on your requirements.
4. Increased durability
The durability of the WPC wall panel distinguishes it from traditional wood panels. Traditional wood wall panels needed regular maintenance of 2-3 years. That includes cleaning, stain removal, and painting. Conversely, the WPC wall panels span up to 30 years.
This means you will need a lot of money and time to maintain the wood wall panels after installation. The WPC outdoor wall panel's long lifespan is because of its composite material.
Composite is durable and offers good mold and water resistance. Besides, you will only have to clean and maintain it; use soap and water to scrub it.
5. Protects the environment
The outdoor WPC wall panel combines wood fiber and a blend of recyclable plastic. Using recyclable plastic reduces plastic pollution on the surface. It also protects the environment by minimizing excessive deforestation.
Generally, WPC wall panels are friendly if compared with other wall panels. Using WPC wall panels outdoors protects the environment better than other alternatives.
There are many benefits associated with decorative wood panels for walls. So, you don't need to worry about cutting down trees for the same purpose.
The Best Manufacturers in China
KR is one of China's best WPC wall panel manufacturers. We offer attractive WPC wall panel outdoor accessories and decorating solutions. Our optimum-grade WPC boards leave the outdoor and indoor walls beautiful. Also, it gives buildings natural looks and maintains its durability and flexibility.
Our wall panels are splinter-free, rot-proof, and water-resistant, with a long-lasting finish. Other products available include WPC cladding, fencing, and DIY tiles. We also have a garden house, pergola, and indoor wall paneling. Check out our WPC decking installation guide if you wish to get started.